Brief Information
Tour Route: Hanoi – Mai Chau – Ninh Binh – Hoi An – Danang
Duration: 14 Days/ 13 Nights
Date: No fixed departure dates. You may go whenever you wish.
Start/ End: Hanoi/ Danang (or Saigon)

Brief Itinerary
Day 1: Hanoi Arrival
Day 2: Hanoi City Tour
Day 3: Hanoi – Duong Lam Ancient Village
Day 4: Hanoi – Mai Chau
Day 5: Mai Chau Trekking & Village Tour
Day 6: Explore Mai Chau by Bike
Day 7: Mai Chau – Ninh Binh
Day 8: Trang An Landscape Complex
Day 9: Ninh Binh – Hoi An
Day 10: My Son Holy Land – Hoi An Walking Tour
Day 11: Explore Hoi An on Boat
Day 12 -13: Beach Chill
Day 14: Hoi An – Danang Departure
Special Experience of this Trip
Enjoy a home-cooked meal with a local family in Hanoi
Discover the unique cultures in the stunning rural area of Mai Chau
Visit the UNESCO World Heritage Site Trang An, the Halong Bay on land
Relax and soak up on the beautiful beaches near Hoi An ancient town
Block "tailor-make-luxury-tours" not found
Full Itinerary
Day 1: Hanoi Arrival
After landing in Hanoi airport, you will be welcome by our guide then transferred on a private vehicle to your hotel for check-in and recovery. The rest of the day is your leisure to explore the capital of 1000 years old.
Day 2: Hanoi City Tour
Today, visit Ho Chi Minh Complex including Ho Chi Minh Mausoleum – the rest in peace of the greatest presidents in Vietnamese history. Then explore One Pillar Pagoda which is considered the iconic religious construction in Hanoi before having a quick look at the yellow French-inspired Presidential Palace. Later, head to Temple of Literature to know more about the first national university in Vietnam.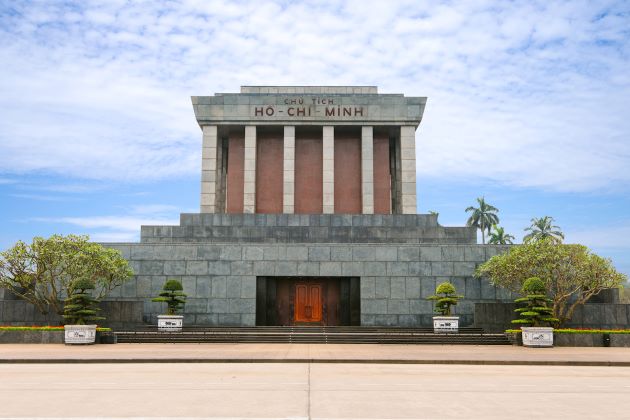 After lunch, travel to Hoa Lo Prison (also known as Hanoi Hilton) – the hell on earth of political prisoners in the French colonial period in the 20th century. Next, discover the Hanoi Ethnology Museum, the home to the priceless collections of artifacts, traditions, cultures, and images of 54 ethnic peoples in Vietnam. Tonight, you can relax at the hotel or move to Hanoi theater to enjoy the traditional water puppet show (optional).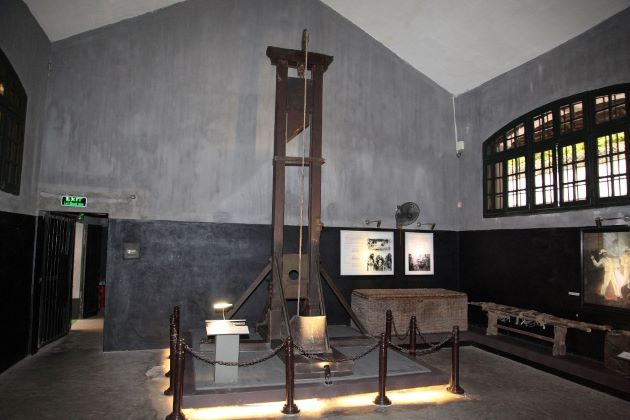 Day 3: Hanoi – Duong Lam Ancient Village
Today, join in a fascinating countryside journey to experience the peaceful and rustic of Hanoi outskirts. After breakfast, head to Duong Lam ancient village, a typical agricultural village in Red River Delta. It also has the honor to be the birthplace to two Vietnamese kings as well as the reorganization from UNESCO for the great efforts in preserving local cultures and heritage sites.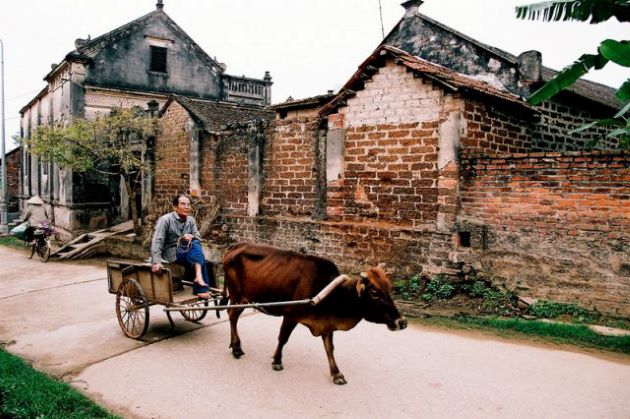 On arrival at the village, take a leisurely cycling tour through Duong Lam's narrow alleyways to see rural local lifestyle as well as old Vietnamese architecture from the 4 centuries. Then visit Mong Phu Temple with its ancient entrance gate observing the ups and downs of the villagers' daily life. Later, enjoy a home-hosted lunch served in a 300-year-old house and interact with the friendly and hospitable owners. Next, continue to bike to King Phung Hung and King Ngo Quyen temples together with the 600-year-old Mia Pagoda. Afterward, get on the vehicle and return to Hanoi.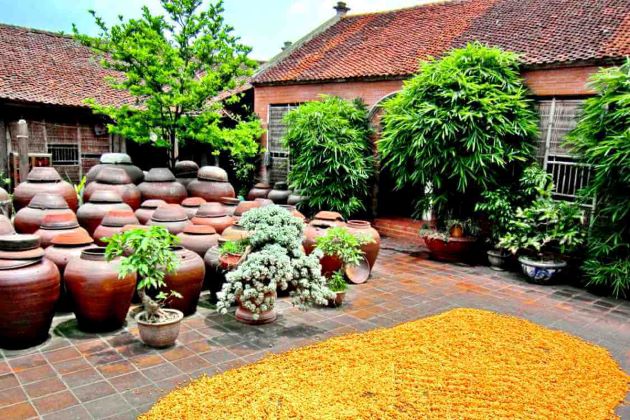 Day 4: Hanoi – Mai Chau
After breakfast, make the journey to the west to Mai Chau, one of North Vietnam's lesser-known rural gems. (About 4 hours of traveling). On arrival, enjoy your lunch of local specialties. Then spend your first afternoon in Mai Chau relaxing and enjoying the tranquility of the countryside. There is a really different side to cultures and foods so make the most of your exploration by meeting the locals and experiences unique traditions here.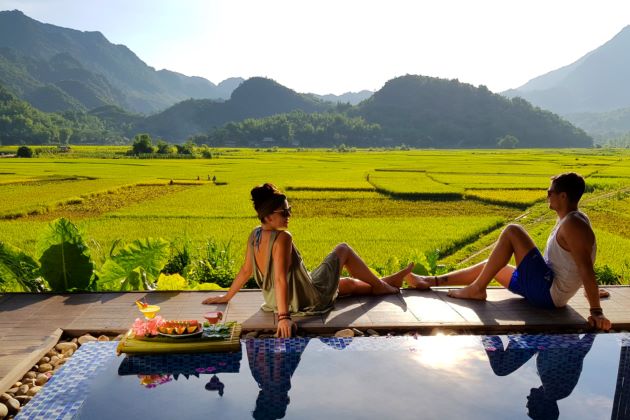 Day 5: Mai Chau Trekking & Villages
After breakfast, explore ancient Thai villages nearby. Next, join in a light trek of around two to four hours through Xa Linh and Pa Co, the home of the Green Hmong hill tribe. Enjoy a picnic lunch served on route which gives you a chance to stop and admire the scenic beauties In the afternoon, take a leisurely walk to Thai villages of Van Mai, Mai Hich, Cum, and Xam Khoe before being transferred back to the hotel. In the evening, you will have a chance to enjoy a traditional performance of music and dance of local people.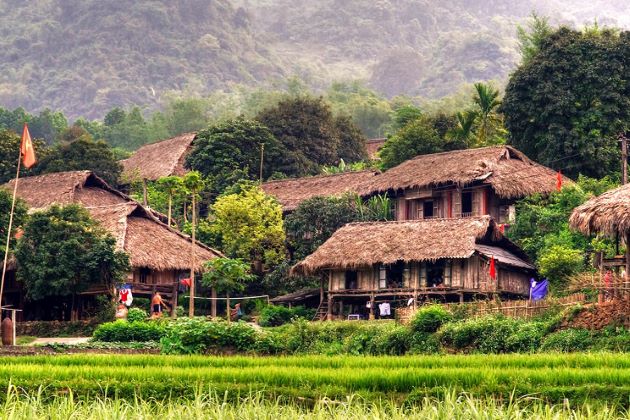 Day 6: Explore Mai Chau by Bike
Begin this morning with a leisure cycling to some more of the untouched villages in Mai Chau Valley. As you start to get tired, stop at a wet market to enjoy the local ambiance and find somewhere to sit and enjoy lunch.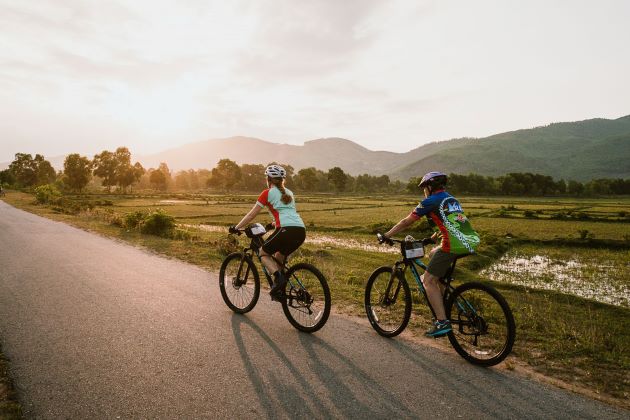 After lunch, cycle back to the hotel and spend the afternoon at the hotel dipping in and out of the pool or treating yourself to a massage. In the evening, enjoy the sunset with your favorite drink and behold panoramic views of the rolling hills around you.
Day 7: Mai Chau – Ninh Binh
Get back on the road this morning to head to Ninh Binh, another undiscovered rural gem and the ancient capital of Vietnam (about three and a half hours of traveling). Upon arrival, tuck into a freshly prepared lunch and then you can stretch your legs with a leisurely stroll to a nearby village where you can learn to weave bamboo together with the locals. If you prefer cooking, there is also an opportunity to get involved in a hands-on cooking class to make traditional Vietnamese foods.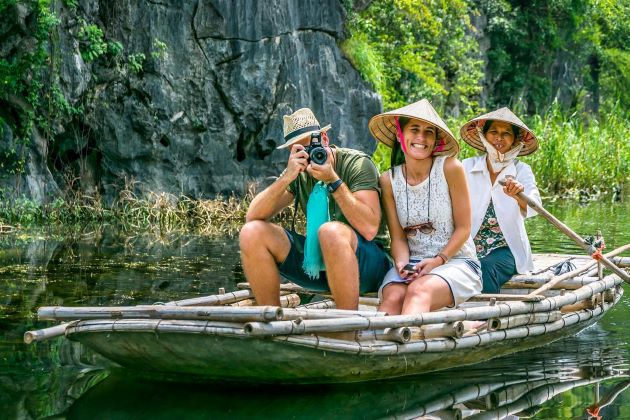 Day 8: Trang An Landscape Complex
After breakfast, you will be transferred to the docking point to board a private sampan and start a journey to the UNESCO protected area of Trang An. Limestone hills and mountains surround a peaceful river that passes through a series of immense rice fields and mysterious caves.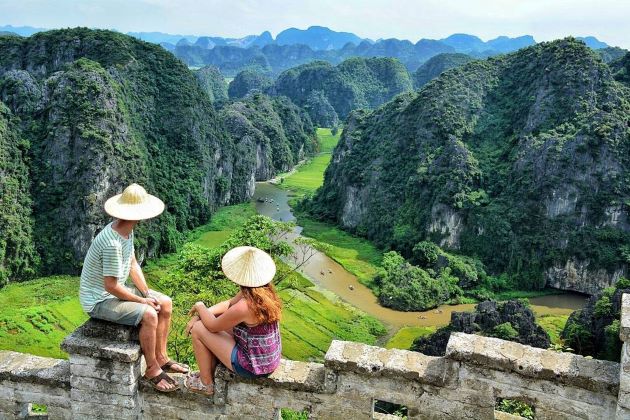 Considered an eco-tourism area, this is a peaceful area where the only interruptions are the gentle dip of oars and the sound of birds in the crystal clear river. When your boat gently slices through the water, notice the enormous limestone karsts on the green rice fields and experience why the locals call it 'Halong Bay on Land'. Return to the hotel by the late afternoon.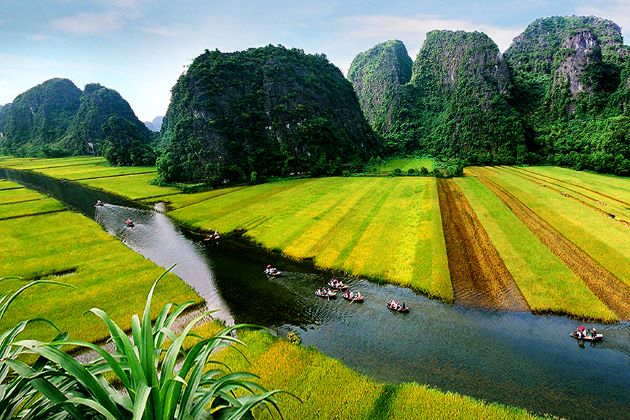 Day 9: Ninh Binh – Hoi An Ancient Town
This morning, leave the lush green of rural countryside behind in favor of the soft sands on the coast. First, travel back to Hanoi airport to catch a domestic flight to Danang. Then, travel by a private vehicle to Hoi An. All of them will take you a whole morning but reward you with amazing scenes and stunning beaches. You'll be staying in one of the opulent beach properties outside Hoi An. When you arrive, drop your luggage and head to the bar for a sundowner overlooking at the beach.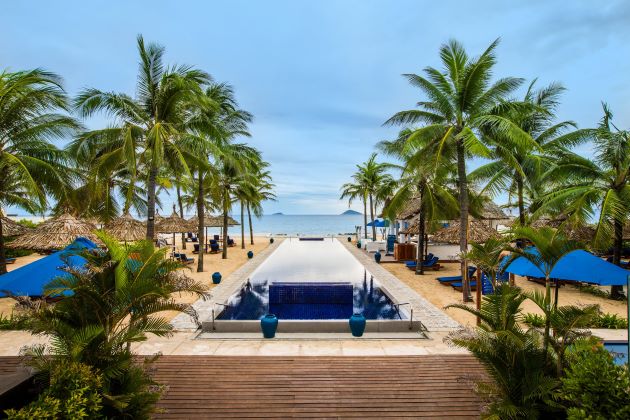 Day 10: My Son Holy Land & Hoi An Walking Tour
Today, get ready for some activities which will get you immersed in the epic history of Central Vietnam. After breakfast, make a trip from Hoi An to My Son Sanctuary, a UNESCO World Heritage Site. On arrival at My Son with dozens of ruins are scattered at the tranquil landscapes, you will find yourself back in the Champa Kingdom many centuries ago. Many structures built from bricks here are dedicated to Hindu gods or reflect Hindu mythology. Listening to tales of the Champa Kingdom while discovering these atmospheric structures will leave you unforgettable memories.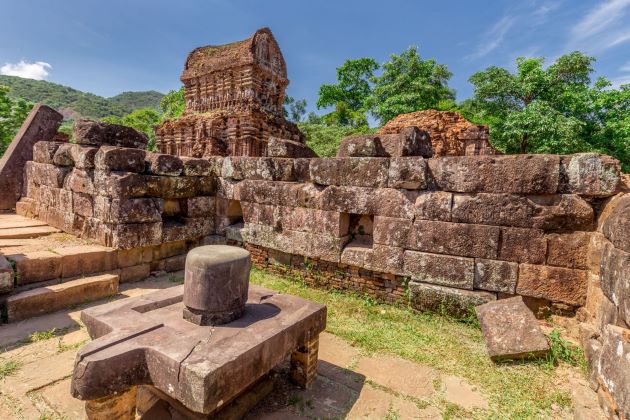 Afterward, return to Hoi An to take a break at a local restaurant to sample some of the traditional dishes. Next, spend your afternoon exploring Hoi An's old town on a leisure walking tour. Over 200 years of development and war, Hoi An still remains much the same as it was in its heyday. You will have a chance to see the wooden-fronted houses, the Japanese-covered Bridge, the colorful market and a lot of antique shops as well as galleries. When it ends, you can head back to your hotel or be free to explore this ancient town at night which will be lit up by a lot of lanterns.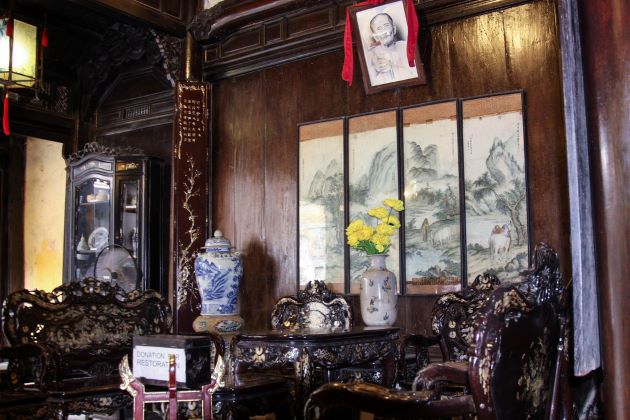 Day 11: Explore Hoi An on Boat
Today, travel by boat along Thu Bon River as you will watch the UNESCO World Heritage Site – ancient trading houses fade from view. The boat will travel north, entering smaller estuaries covered by dotted with quaint houses and leafy palm trees. Witness scenes of daily life on the river as local farmers return to their home from the fields, boats laden with vegetables, and small students frolic on the riverbanks.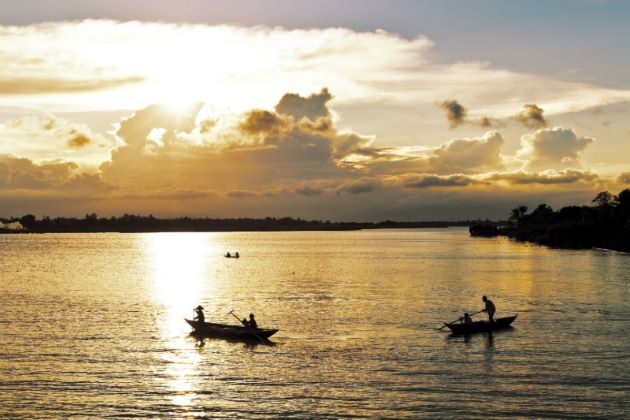 Next, the boat will pass by local fishermen. Watch them gracefully cast their massive nets for the fresh catch. Then, you can climb into a small bamboo vessel and paddle along the calm waters with them. In the late afternoon, watch the sky turn brilliant shades of orange when the sunsets over the river – a wonderful way to end the trip.
Day 12 & 13: Beach Chill
After 10 days of traveling and adventuring, it is the best time to spend a few days for a relaxing beach break. On Hoi An beach, sit on your sun lounger and admire the beautiful sea views with the white sand between your toes and obtain Vitamin D from the sun as much as possible. These days, you can barter for gifts and souvenirs in local markets, sunbathe and swim on the beach, or enjoy a massage in your hotel spa.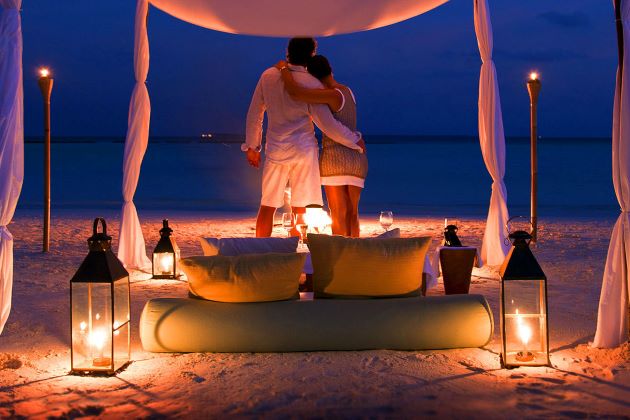 Day 14: Danang Departure
Today, you will be collected from the hotel to travel back to Da Nang airport where you can take your flight home. Trip ends.
Note: You can transfer to Tan Son Nhat International Airport in Ho Chi Minh if your flight requires