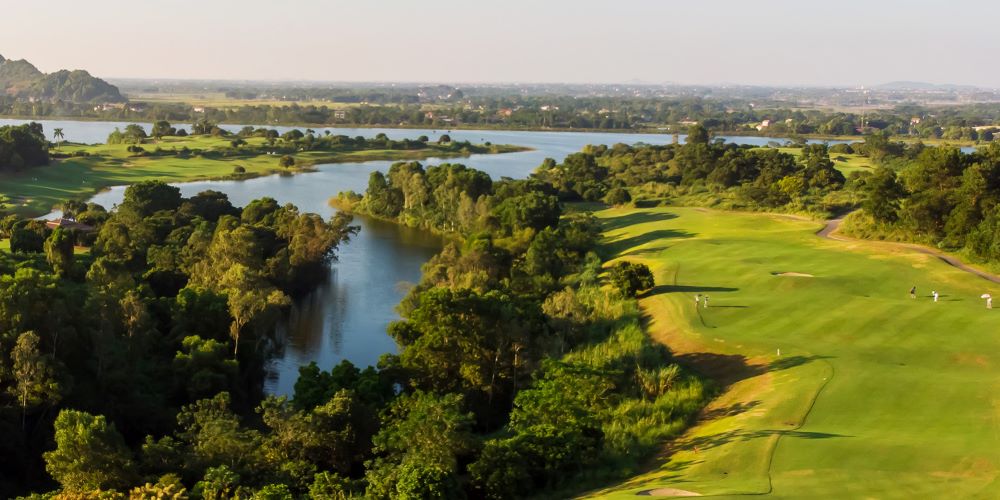 Vietnam Luxury Golf Tours & Holiday Packages
Vietnam has emerged as a premier destination for golf tours, offering stunning landscapes, favorable year-round weather, and top-notch courses. With a wide selection of luxury golf resorts, Vietnam is the perfect choice for avid golfers. Our Vietnam Golf Holiday Packages combine the thrill of the sport with the enchantment of charming attractions and untouched natural wonders, ensuring an unforgettable travel experience. Get ready to tee off on Vietnam's finest golf trails in Saigon, Dalat, and Danang. With breathtaking scenery and thrilling adventures, you can indulge in your favorite sport while being catered to by a trusted Vietnam luxury tour operator. Discover the best Vietnam golf tours and enjoy the charms of Vietnam while staying in luxurious comfort at golf resorts.
Why choose Vietnam Luxury Golf Tours with Vietnam Luxury Tourism?
At Vietnam Luxury Tourism, we go above and beyond to create unforgettable golfing experiences that embody the perfect blend of luxury and authenticity. Here's why you should choose our Vietnam luxury golf tours:
Meticulous Design: Our Vietnam luxury golf tours are meticulously designed to provide you with an exceptional and authentic golfing experience. We carefully curate every aspect of your tour, ensuring that your golfing adventure in Vietnam is nothing short of sheer luxury.
Personalized Freedom: We understand that every golfer has unique preferences and requirements. That's why our luxury golf tours in Vietnam are fully customizable. We tailor your itinerary to suit your specific needs and travel plans, ensuring that your Vietnam golf holiday is a perfect fit.
Fabulous Golfing Destinations: Our luxury golf tours lead you to the most fabulous golfing destinations in Vietnam. From championship coastal courses with stunning ocean views to idyllic fairways nestled in picturesque valleys, we handpick the best golf courses to create an unforgettable golfing journey.
Exquisite Accommodations: Luxury is at the heart of our golf tours. During your Vietnam golf vacation, you can expect to stay in lavish and handpicked accommodations. Whether you prefer an all-inclusive seaside resort or a charming boutique hotel, we ensure that your accommodation reflects the highest standards of luxury.
Unique Experiences: We believe in providing our guests with unique and immersive experiences. In addition to exceptional golfing, our Vietnam luxury golf tours offer opportunities to engage with the local culture. Have a conversation with monks over a cup of tea at a local pagoda, savor a home-cooked meal in a traditional garden house in Hanoi, join a cooking class in charming Hoi An, or embark on a breathtaking luxury cruise through the magnificent Halong Bay.
Local Expertise: Our Vietnam luxury golf tours are designed by our team of local travel experts who possess in-depth knowledge of the country's golfing scene. We provide you with expert advice and recommendations, ensuring that your unique needs and preferences are met to the highest standards.
When you choose Vietnam Luxury Tourism for your golfing adventure, you can rest assured that every detail will be taken care of, allowing you to focus on enjoying the world-class golf courses, immersing yourself in the local culture, and creating memories to last a lifetime. Contact us today and let us design the perfect luxury golf tour in Vietnam tailored to your desires and expectations.
Best Places for Luxury Golf Tours & Packages in Vietnam
Vietnam offers a wide array of destinations for luxury golf tours, each providing a unique blend of stunning landscapes, world-class golf courses, and luxurious accommodations. Here are some of the best places for Vietnam luxury golf tours
Danang: Known as the " Golf Coast" of Vietnam, Danang is a premier golf destination with a collection of top-notch courses. Enjoy breathtaking coastal views while playing at courses.
Hoi An: Just a short distance from Danang, Hoi An is a charming ancient town that combines history, culture, and golf.
Ho Chi Minh City: As Vietnam's largest city, Ho Chi Minh City offers a mix of urban excitement and excellent golfing options.
Nha Trang: A tropical haven for luxury golfers. Enjoy the exquisite Vinpearl Golf Nha Trang course on a stunning island, complemented by indulgent stays at beachfront resorts.
Dalat: Experience the renowned Dalat Palace Golf Club, set amidst pine forests and rolling hills, and explore the city's French colonial charm and beautiful flower gardens.
Phu Quoc: A mesmerizing island in southern Vietnam, captivates visitors with its pristine beaches, crystal-clear waters, and a burgeoning luxury golf scene.
These destinations offer the perfect combination of luxury, natural beauty, and exceptional golfing experiences, making them ideal for Vietnam luxury golf tours. Each location provides a unique atmosphere and a variety of activities, guaranteeing a memorable and indulgent golf vacation. Discover the best Vietnam golf tours and indulge in the charms of the country while staying in luxurious golf resorts that offer both comfort and elegance.
Top Tailor-Made Vietnam Luxury Golf Tours & Holiday Packages